I'm not much of a believer in authentic versus inauthentic food debates. Classic recipes all over the world have regional variants and every cook makes a dish their own. A good takeaway curry in London is an "authentic" London curry as much as one made at home in Kerala. I had this, or a version of it, in a Brick Lane curry shop the first time I visited London with my husband and our, then, eight-year-old son. In trying to recreate its wonderful sourness, I hit upon using lemon. The original I suspect is made with amchur, a tangy green mango powder that isn't always easy to get your hands on. Though definitely easier now that you can order anything you could possibly want online. It looks a little nicer if the dal holds its shape but I like mine a little mushier—comfort food texture.
This dish shows up in the second book of the Voices of the Dead series, Our Lady of the Various Sorrows. Jo, the main character, runs a teahouse and, in a blatant version of writing what you know, is a competent cook. I completed a culinary arts degree and taught culinary school for six years, so all the information needed to go somewhere in my fiction. Jo makes this version of dal for dinner when she invites a new friend, who is more than he seems, to the farm house where she is holing up. You will also be able to find this recipe and more in the series campion, The Renegade Tea Cookbook (2021).
Lemon Dal
1 tablespoon ghee or butter
3 cloves garlic, minced
1 small onion, chopped
2 cups matar dal, also called chana dal, but yellow split peas are a good substitute
4 cups of water
1/2 inch piece of ginger, peeled
1 teaspoon cumin
1/4 teaspoon cayenne
1 teaspoon ground turmeric
1 teaspoon sea salt
2 lemons
1/2 teaspoon white pepper
1 teaspoon garam masala
Optional topping
3 tablespoons butter
1 teaspoon whole cumin
1 clove garlic
Pinch red pepper flakes
Fresh cilantro, chopped
Plain yogurt, stirred until smooth
In a large saucepan, melt ghee or butter and sauté garlic and onion until the onion is translucent.
While the onion and garlic are doing their thing, sort the dal or peas and pick out any stones or odd looking peas. Give them a rinse and add to the onions with the ginger, cumin, cayenne, turmeric, salt, and water. Stir this around to coat everything in the oil and toast the spices a bit. Add water, bring to a boil then reduce heat to simmer 20 to 40 mines or until soft enough to smoosh a legume or two against the side of the pan and some are starting to breakdown. This may take longer than 40 minutes depending on the age of said legumes.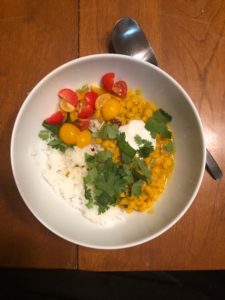 Once the dal is to your liking, remove from heat and squeeze in the juice of two lemons, white pepper and garam masala. Taste for seasoning. If it isn't sour or lemony enough you can add more lemon juice or a little of the lemon zest.
For an extra flourish, heat three tablespoons of butter in a small frying pan. When it's bubbling add a teaspoon of whole cumin seed and a clove or two of garlic sliced very thinly. Stir that around until the garlic is just lightly browned and smells toasty. Remove from heat and add a pinch of red pepper flakes, if you're up for more spice. Do not add the chili flakes to the hot butter while it's on the heat to avoid accidentally clearing your house with the culinary equivalent of pepper spray. Drizzle a spoonful over each portion before serving.
Top each bowl with a little yogurt, strew over some chopped cilantro (haters can substitute flat leaf parsley) and serve with basmati rice, an Indian pickle or chutney, and some warm naan.
BIO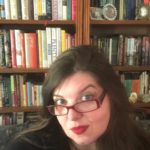 Victoria Raschke writes books that start with questions like "what if you didn't find out you were the chosen one until you were in your forties?" When she isn't holed up in her favorite coffee house to write, she can be found at the nearest farmers' market checking out the weird vegetables or at her home where she lives with a changing number of cats and her family who supports both her writing and her culinary experimentation — for the most part. Her first book, Who by Water, was published in 2017.