Chimichurri, the condiment you didn't know you need
Word lovers, how many opportunities have you had to eat some Argentine onomatopoeia? Onomatopoeia that performs an exquisite tango with almost anything somewhat charred by the dancing flames of your grill? Pay attention as this could change your life as it has mine.
Ingredients
a sharp chef's knife
a good, preferably wooden cutting board
1/2 cup (or a little more to get a viscous texture) extra virgin olive oil
4 – 5 peeled cloves of garlic
2 bunches of Italian flat leaf parsley
1 or 2 bunches cilantro
1 medium jalapeno (seeds removed)
1/2 yellow onion
juice of two fresh limes
sea salt, preferably coarse
something red like a sweet pepper or radish (blood from your left forefinger won't work since it will quickly lose its color when diluted by lime juice)
Recipe

I realize you're not going to eat your chef's knife and cutting board, but they're essential ingredients. The chef's knife is the long one with the wide blade. I only use wooden cutting boards because they don't dull my knives and they look better.
Let's start with the good news. There's no cooking required. Nada. So, let's start chopping. Everything except the limes and the sea salt get chopped. I recommend discarding the stems of both the parsley and the cilantro. Do NOT use a food processor as you'll end up with the loathsome mush generally served in restaurants. Texture is everything with chimichurri. Without it your tango partner won't be sveltely dressed in black. So, patiently, (and with duende, aka passion) chop all this stuff up and stir it around in a favorite bowl without being too disappointed that the yield looks unfairly modest for the amount of chopping you've done.
Now, add a healthy amount of salt. I'm always more concerned with taste than sodium consumption, but you may be more sensible. That's your choice. Don't be shy. Add the lime juice. A small citrus squeezer works perfectly. If you don't have one, just use your hands and enjoy the juice coursing through your fingers into the bowl without worrying about the seeds too much unless you're OCD like me. Now, taste it. It will be wonderful and can possibly save your marriage.
You might (should!) ask, "What do I do with this stuff?" The best answer is anything you damn well want to, but our Argentine and Chilean neighbors have been using it as a condiment on grilled meats for centuries. I love it on steaks, grilled chicken, fish, and grilled veggies (take your pick after tossing lightly in olive oil and grilling to your preferred level of charring).
Some of you will have realized early on that this recipe is not the classic chimichurri, in which oregano substitutes for cilantro. If you don't like cilantro, go for it, but you can't be my friend.
Andale!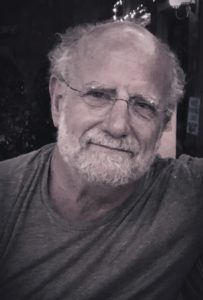 Tom Weiss just turned 70, and he's a retired real estate developer, also former owner-operator of The Grill at Highlands Row (2010-6, may she rest in peace) who has written a few hundred poems to little acclaim except from a few women he met while immersed in on-line dating. Now he's determined to write some literary fiction before the sands of the hourglass refuse the narrow tunnel.