Sometimes we simply must step away from what we're doing to see what can happen when we don't mess with it. We've stared at the words on the page, marked them up; added a word, character, or scene here; and deleted a chapter or verse there. We've done the hard work. Added the ingredients and mixed them up. Adjusted the seasonings. We don't want to overmix, nor leave things in high heat for too long. The time arrives to stop meddling, give them an overnight without us so after some time apart, we'll be able to see that they've become what they should be. And so it is with these "Forgotten Cookies." Once those six ingredients — most of which are already in your pantry or fridge— are mixed, put them in the oven, turn it off, and forget them. While entirely on their own, they will busily turn into something gorgeous overnight. No peeking.
Mom & Aunt Kakkie's Forgotten Cookies
Makes 50.
Cover cookie sheets with parchment paper.
Preheat oven to 350 degrees.
2 room-temperature egg whites
2/3 cup sugar
¼ teaspoon salt
½ teaspoon vanilla (I add a little more)
1 cup chopped pecans
1 cup mini chocolate chips (semi-sweet)
Beat egg whites and salt until very stiff.
Add sugar after whites are stiff. (Use the eggbeater.)
Lightly beat in vanilla.
Fold in pecans and chocolate chips.
Drop by spoonfuls onto prepared cookie sheets.
Place in oven.
Turn the oven off.
Leave two hours or overnight. (If it's humid, remove them after 3-4 hours.)
Once they have cooled, put them into airtight containers.
Encouragement from Nancy: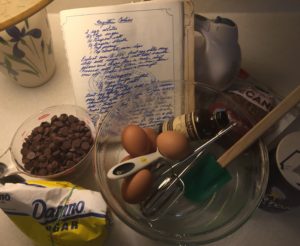 Some cooks are nervous about baking anything in the meringue family. I promise you these are easy as pie (or cookie) but here are a few tips. If any of the yellow gets into the bowl of egg whites, clean it out or start over. Any meringue made on a rainy day might turn out to have less charisma than you planned. Beat them a bit stiffer before you add the sugar and accept that they might not be quite as puffy. I add a little more than one spoonful for each cookie, so I only get 36-40 instead of 50. I usually double the recipe, no matter the weather, so I can mail some off to my son or share with friends. Tripling it works, but not quite as well. By the time you drop the last cookies on the pan the meringue is a little runny and they go flatter. They'll still taste good but aren't as pretty.
P.S. When they were young, both my sons made "Forgotten Cookies." You can do it!
BIO
Nancy McGlasson's early retirement as UTK's Director of Undergraduate Admissions enabled her to finally tell her stories. Currently she's writing two mainly creative nonfiction books (with fiction also part of the second one): Flying Kites at Night about her son who died by suicide and the role an unmoderated online suicide support group played, and Make Yourself an Interesting Woman about her grandmother, a white women who performed black music and was the first woman to have her own radio program (NBC, 1930).