We're pleased to spotlight Cindy Moffett and her writing life. Thank you for helping us spread the word on how the KWG supports our writing community for writers at all stages of their writing journey. 
How long have you been a member of the KWG?  About five years. I joined so that I could apply to become a member of the Fiction and More writing group, which then sent me and two other applicants off to form our own writing group. Right now, I'm serving as president of the Knoxville Writers' Guild, and it is a pleasure to work with the excellent board. Several old-timers told me that they'd made good friends through the Guild, and that's been true for me, too.


What was a favorite book from childhood? The Princess and the Goblin by George McDonald.


Are you part of a KWG writing group?  I'm part of the Pre-Pulitzer writing group, which has done wonders for my writing and good spirits.


What kind of writing do you do? The occasional short story or essay, historical fiction that is currently migrating from young adult to adult, and the mere beginning of a cozy mystery.


What project are you working on now?  "Now" as in today: historical fiction, Living with the Bell Witch. I've wanted to write this since I was a third-grader terrified by An Authenticated History of the Famous Bell Witch, written in 1894. We lived in the area of the haunting.
    
What is your writing goal? For the rest of Covid, I'm going to try writing two hours a day, five days a week.


Your favorite writer feel-good moment? Written praise from workshop leader Elizabeth Genovise, an excellent writer and teacher, just when I needed it.


Any surprises from tackling fiction after a career of nonfiction? How incredibly slow I am, and the surprising new views of my past that eventually bubble up.


What KWG programs or workshops stand out for you?  The recent Elizabeth Genovise fiction workshop was all I hoped for and more: in-depth analysis from strangers and a professional. And the recent program by poet Keith Flynn kept me smiling at his energy, rhythm, and humor.


How has being in a KWG writing group helped? Most of all it forces me to write because people expect more copy, every month. The range of member perceptions is an important reality check and window into the wider world of readers.


Do you have any writing rituals?  Sometimes I write to baroque music if I need to find order in chaos. A crunchy snack – popcorn, crackers, even celery – helps me focus.
What helps when you get stuck? Going for a walk so I can shake loose my thoughts. If I'm really stuck, putting the work away for a few days helps.


What are your favorite excuses for not writing? I'll clean or straighten or do the taxes or just about anything as an excuse. Writing is the slowest-reward thing I know. 


What's the best thing you've read lately? Wolf on a String by Benjamin Black, the crime-writing pen name of Booker Prize winner John Banville. He's so good that I just fold in awe, now and again, as I read.


What is your secret talent? Seeing both sides of an argument.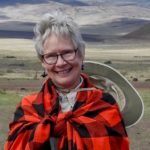 Cindy Robinson Moffett's communications career includes technical and science writing and editing at Oak Ridge National Laboratory and Y-12, documentary writing and producing for Jupiter Entertainment and freelance writing for the University of Tennessee. She's grateful for the knowledge, community, and support that the Knoxville Writers' Guild provides, especially during Covid. She's a naturalist (more enthusiastic than skilled) and a spirited cook.