A Letter to My Late Cousin About Cooking for Our Dogs and a Recipe I Wish I Could Share with Her
Dear Julie,
One of the things I miss the most is watching you stand at your stove stewing chicken pieces or scrambling eggs for your finicky senior dog. I laugh, remembering how your old dog would not shuffle to her bowl if anything was blocking her path, like a coat hanging on the back of a chair or if the blinds were open. I thought how silly to cook for your dog, even though I got a kick out of watching you. I remember saying to myself that I would never do that.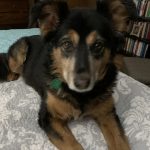 Well, guess what? I have turned into you, standing at my stove cooking chicken, or carrots, or peas for my old dog, Ida. I make quick gravy from boxed beef broth, or hard boil eggs, or open a can of pumpkin. Anything to make a topping for the scoop of expensive, all-natural, healthy kibble that we order by mail and that she now refuses to eat unless there is something extra on top. Even now, Julie, as I write this letter to you, Ida is vying for my lap because it is thundering outside and she is afraid of storms. I hold onto her as I wish I could have told you about this recipe when you were out of eggs or just in a hurry. It's so easy to break up a couple of these tasty peanut butter dog biscuits as a quick topping to a bowl of dog chow for our spoiled rotten canines.
How I wish you were here so we could make them together while our old dogs napped in the kitchen.
Still yours forever,
Marianne
Biscuits for DOGS
Line a half-sheet tray with parchment paper or a baking mat
Preheat oven to 375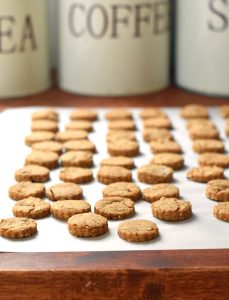 Mix in a large bowl:
2 cups whole wheat flour
1/2 cup old fashioned oats (regular or quick)
1 tablespoon baking powder
1 cup chicken broth (I use low sodium and warm it a bit in the microwave)
1 cup creamy peanut butter (room temperature)
1 good splotch of honey or sorghum
Turn out on a floured surface; knead 4-5 times then roll or flatten the dough to about 1/2 inch thick. Cut out dough with a small round (or one of those fancy dog-boned shaped cutters if you have one.) Place on baking sheet and bake 18-20 minutes or until gold brown.
Cool completely on a wire rack for a couple of hours. The biscuits should be crunchy. Store in a container for one week or in the refrigerator or freezer for longer. (They don't last long—even old dogs love them.)
Bio

Marianne Worthington is co-founder and poetry editor of Still: The Journal, an online literary magazine publishing literary, visual, and musical artists with ties to Appalachia since 2009. Her work has appeared in Oxford American, CALYX, Cheap Pop, and Feed, among other places. She received the Al Smith Fellowship from the Kentucky Arts Council and artist's grants from Kentucky Foundation for Women. She co-edited Piano in a Sycamore: Writing Lessons from the Appalachian Writers' Workshop and is author of a poetry chapbook. Her poetry collection is forthcoming from University Press of Kentucky, 2022. She grew up in Knoxville, Tennessee and lives, writes, and teaches in southeast Kentucky. She's on Twitter @m__worthington.