We're pleased to spotlight Kelly Norrell and her writing life. Thank you for helping us spread the word on how the KWG supports our writing community for writers at all stages of their writing journey.
How long have you been a member of the KWG?
Since 2005, when I was hired as newsletter editor.


What KWG program did you particularly enjoy (and why)?
Local authors talking about their books, especially right after they are released — Pamela Schoenewaldt, Marilyn Kallet, Alan Gratz, Jack Neely, so many others. I love the energy, joy and inspiration of those events.


What kind of writing do you do? Or want to do?
Journalism, promotional writing of all kinds, a little fiction. I also enjoy photography.


What project are you working on now?
Promotion for the Congo Mission Network 2020 virtual conference. Also a thriller novel.


What is your writing goal?
As a promoter, to communicate effectively with as wide a swath of people as possible. As a journalist, to tell a good story with punch and economy. As a fiction writer, to finish this novel.


Awards, prizes, or writer feel-good moments?
I won two awards for reporting from the Associated Press and one from the Alabama Press Association, an Award for Excellence from the Alabama Hospital Public Relations Society, and consistently have improved the metrics of clients I have worked for, including the Episcopal School of Knoxville and Emerald Youth Foundation.


Who inspired you to write?
My parents were talented writers, newspaper reporters and then communications pros (then called "industrial editors"). They required writing of me from about age 4. My dad, Dan Dowe, as city editor of the Alabama Journal, met the Freedom Riders when they arrived on May 20, 1961 at the Greyhound Bus Station in Montgomery. His reporting on the event was the best I saw anywhere in the country. He later testified on the events in federal court. My mom won awards for writing, editing and designing the Alabama School Journal.


What helps when you get stuck?
Gardening and chocolate.


What is your secret talent?
Opening jars that are stuck!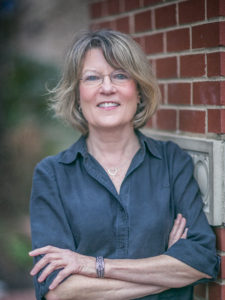 Kelly Dowe Norrell is a freelance writer, promotions specialist, and photographer in Knoxville. When business is slow, she also raises radishes and zinnias. She was communications director at The Episcopal School of Knoxville 2005-2012 and communications consultant to Emerald Youth Foundation 2012-2015. Newspaper and magazine credits include Duke Divinity School, the National Association of Independent Schools,  Eastern Kentucky University, and the Knoxville News Sentinel.  For Knoxville Writers' Guild, Kelly has been newsletter editor, publicity director, and webmaster. She was a reporter for the Alabama Journal, Montgomery, Auburn Bulletin, and the Birmingham Post-Herald. She was a stringer for the New York Times and a writer for the University of Alabama Hospitals in Birmingham. Kelly earned a BA in American Studies from the University of Alabama in Tuscaloosa. As winner of one of the first Rotary International Study Awards for Journalists, she  studied economics and politics of the Middle East at Durham University in the U.K.  She was born and raised in Montgomery, AL. Kelly can be reached at Kelly@Norrellmedia.com and soon at her website.