We're pleased to spotlight Terry Shaw and his writing life. Thank you for helping us spread the word on how the KWG supports our writing community for writers at all stages of their writing journey
How long have you been a member of the KWG? 
I first joined in 2007. Over the years I've been program and workshop chair, vice president and president. For me the best part of being a Guild member is networking with other writers.
What is your day job?
I'm a freelance editor for book-length projects, both fiction and nonfiction.
Are you part of a KWG writing group?
Not currently, but I've been in two crime/mystery writing groups. I would be willing to join another if it were the right fit, which I think is the most-important thing to look for in a writing group.
What kind of writing do you do?
I was a newspaper reporter and editor for years and have worked in public relations and advertising. I'm currently concentrating on writing novels.
What project are you working on now?
A trilogy of crime novels set in Niagara Falls, New York. The first — NIAGARA FALLING — is about a police detective who has to solve a worksite homicide before war breaks out between a group of native American roofers and a corrupt labor union.
Awards, prizes, or writer feel-good moments?
As a journalist I won several awards for column and feature writing. The journalism awards I'm proudest of were from the Maine Press Association for two investigative series I co-wrote and edited. One was on rural homelessness. The other was on domestic violence. This was back in the late 1980s, when there hadn't been much done on either subject, and we opened a lot of people's eyes. I also won the Simon & Schuster First Chapters contest for my novel, THE WAY LIFE SHOULD BE, in a competition that had 2,600 entries from around the country.
Who inspired you to write? How did this person inspire you?Probably my mother. She was a blabbermouth, and in our household, it was tough to get a word in but I rose to the challenge at an early age. Being a writer seemed to be an outgrowth of that.
What KWG programs or workshops stand out for you?
Why did they stand out?
That's a tough question, because over the years we've so many fine offerings. No matter what type of writing you do, if you listen with an open mind, you'll learn something.
A few KWG highlights for me have been poet Bill Brown talking about "eureka moments," sports columnist John Adams telling tales from his days on a small weekly in Louisiana, and novelist Amy Greene holding up a battered notebook filled with the first draft of BLOODROOT, her New York Times bestselling debut.
The most moving moment came when novelist Michael Knight recognized and thanked Flossie McNabb and Sheila Wood-Navarro for all the support they've given local writers over the years. At the time, they were two of the partners in the bookstore Carpe Librum, which was about to close, and were at a table in the back of the room selling copies of Michael's novel THE TYPIST. The packed house at the Laurel Theatre turned and gave them a standing ovation. Many were moved to tears.
Flossie went on to open Union Avenue Books and remains the patron saint of  Knoxville authors.
If you are in a KWG writing group, how has it helped?
Feedback from others is always good, but the key is knowing what advice to take and what to ignore. Also, seeing problems in the work of others helps you recognize them in your own writing.
Do you have any writing rituals, favorite snacks or times/places to write?
When I work on something right before I go to bed it percolates overnight and I often come up with my best ideas first thing the next morning.
What helps when you get stuck?
I like to go outside. You can do a lot of good thinking in the garden, walking the dog or going for a run or hike.
What's the best thing you've read lately?
The novel THERE, THERE by Tommy Orange. It's a series of interconnected stories about urban Native Americans in Oakland.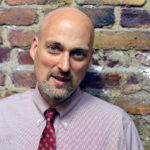 Terry Shaw has been a newspaper reporter and editor and a publicist and copywriter. His experience editing a daily newspaper on the coast of Maine inspired his novel, THE WAY LIFE SHOULD BE, which won the Gather First Chapters Contest out of more than 2,600 entries. Published by Touchstone/Simon & Schuster, it was praised by Publishers Weekly, USA TODAYand NPR. He's at work on a trilogy of crime novels set in Niagara Falls, New York.
His freelance nonfiction has appeared in the San Francisco Chronicle, the Connecticut Post, the Knoxville News-Sentineland Town & Gown. He earned a bachelor's degree in political science and English from Penn State.