As part of a daily "comfort song" series, inspired by Yo-Yo Ma, I composed a poem called "The Morels," about the esoteric mushrooms that thrive in the shade of our yard. Poetry and gourmet mushrooms both provide intense oral pleasure!
The recipe is easy: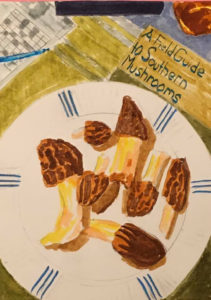 Fried Morels
1 pound morels
Half-stick butter
1/2 cup white wine
Rinse the mushrooms and pat dry; slice; fry in butter and white wine until tender. 
I posted "Morels" poem on Facebook, and Christopher Pell immediately created a painting for the poem. American Diversity Report posted the poem and the painting together. Here's the link to this artful poem-plus-visual site.
Poetry and humor sustain the spirit. I should note also that I have a book of food-related stories and holiday recipes: One for Each Night: Chanukah Tales and Recipes, Celtic Cat Publishing, 2014. Every story is food-themed and comes with a family recipe.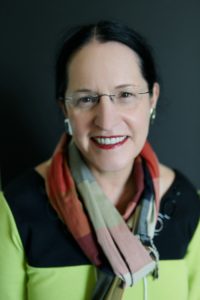 Marilyn Kallet recently served two terms as Knoxville Poet Laureate. She is the author of 18 books, including How Our Bodies Learned, 2018, poetry from Black Widow Press.  She has translated Paul Eluard's Last Love Poems and Benjamin Péret's The Big Game, among others. Dr. Kallet is Professor Emerita at the University of Tennessee, where she taught for 37 years. She also hosted poetry workshops for the Virginia Center for the Creative Arts, in Auvillar, France, for more than a decade. She has performed her poems across the United States as well as in France and Poland, as a guest of the U.S. Embassy's "America Presents" program. Her poetry appeared recently in 101 Jewish Poems for the Third Millennium, and is forthcoming in Plume. She is the author of two children's books, Jack the Healing Cat and One For Each Night: Chanukah Tales and Recipes, Celtic Cat Publishing.