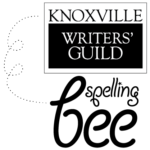 The Knoxville Writers' Guild will host its second annual Adult Spelling Bee on Thursday, Sept. 7 at 7 p.m. at Central United Methodist Church, 201 East Third Avenue, Knoxville.
Some pine away for the next World Series or SEC Championship while others cannot wait until the next Scripps National Spelling Bee Championship aired on ESPN each June, a competition that begins with 11 million students.  The Knoxville Writers' Guild says: why not view a "bee" live in person, this fall, and in our own hometown?
This year, the Bee is open to any contestant age 15 or older. "This is a great opportunity for youth to compete against teachers, parents, and community adults. Many of the words will be drawn from vocabulary used in great literature," said Michael Smith, coordinator of the 2017 Bee. Last year's winner, Scott Firebaugh, a teacher at Grace Christian School, prevailed by correctly spelling "jibboom."
Pilot Flying J Corporation and Testprep Experts are major sponsors of the Bee, with grant support from the East Tennessee Foundation Literacy Endowment Fund.
There will be quick cash prizes for first, second, and third place winners, with a special prize for the highest placing youth speller. Contestants and spectators are eligible for a variety of door prizes. Spelling words are drawn from many sources, including the Merriam-Webster website.
Competitors will be limited to the first 40 registrations. The entry fee is $10. Participants do not need to be KWG members. Click the following links to register and see the Spelling Bee rules.
The event is open to the public, with a suggested admission of $2. Central United Methodist Church is handicap accessible and parking is free.
The mission of the nonprofit Knoxville Writers' Guild, now 25 years old, is to facilitate a broad and inclusive community for area writers, provide a forum for information, support and sharing among writers, help members improve and market their writing skills and promote writing and creativity.
For more information on the Bee contact Michael Smith of Testprep Experts at michaelks@aol.com.
SaveSave
SaveSave
SaveSave
SaveSave