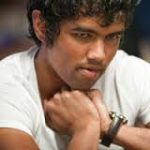 In 2002 and in front of a global TV audience, 13-year-old Pratyush Buddiga correctly spelled the word "prospicience," a noun which means "the act of looking forward." As a result of his steely nerves, hyper-adept memory, and spelling acumen, Pratyush won the National Spelling Bee.  At that time, was he looking forward to a collegiate career at Duke where he would learn to play poker, a skill he would later parlay into millions of dollars?  Doubtful, but the Bee champ turned professional poker player collected a million dollar prize in a poker tournament this past June.
Okay, the KWG Spelling Bee prizes do not approximate what Pratyush sweeps off the felt covered tables of Vegas and beyond.  However, when his nerves start to feel the heat of competition he tells himself  "Okay, I was the best in the country at something, I can do it again."  That's a prize, right?  Come out and compete in the KWG Spelling Bee–you'll have fun and gain some confidence.
DETAILS:
The entry fee is $10. Participants do not need to be KWG members, just 15 or older. Click the following links to register and see the Spelling Bee rules.
Cash prizes for first, second, and third place winners, with a special prize for the highest placing youth speller.
Contestants and spectators are eligible for a variety of door prizes.
Spelling words are drawn from many sources, including the Merriam-Webster website.
Competitors will be limited to the first 40 registrations.
The event is open to the public, with a suggested admission of $2. Central United Methodist Church is handicap accessible and parking is free.
The mission of the nonprofit Knoxville Writers' Guild, now 25 years old, is to facilitate a broad and inclusive community for area writers, provide a forum for information, support and sharing among writers, help members improve and market their writing skills and promote writing and creativity.
For more information on the Bee contact Michael Smith of Testprep Experts at michaelks@aol.com.