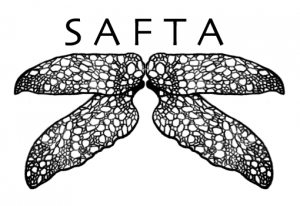 The Sundress Academy for the Arts (SAFTA), a 501(c)3 non-profit organization, is an artists' retreat on a 45-acre farm in Knoxville, Tennessee, that offers residencies to writers, visual artists, filmmakers, composers, and more, from across the country. We also host a monthly award-winning reading series and a creative writing workshop series.
This fall, SAFTA has an exciting reading line-up featuring local writers Tanque R. Jones, Daje R. Morris, Caitlin Hamilton Summie, and Denton Loving, plus visiting writers such as Richard Peabody, Jasmine An, Ciona Rouse, and Tom Hunley. Our reading series takes place monthly on Sundays at 2 p.m. at Hexagon Brewing.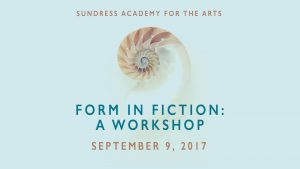 Beyond our monthly reading series, SAFTA will also put on two workshops and a creative writing retreat. The workshop, "Form in Fiction: How to Use Form to Your Advantage," will take place on September 9th and will be taught by Katherine Bell, our new writer-in-residence at Firefly Farms. Workshop participants will generate their own short stories inspired by the formal work we'll encounter and share their work in a creative environment. The cost for the workshop is only $25 for general admission or $15 for students.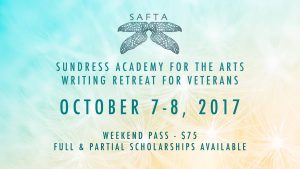 On October 7th and 8th, SAFTA will be hosting our first Veterans Writing Retreat with instructors Jeb A. Herrin and Jan LaPerle. This two-day retreat at SAFTA's Firefly Farms is for military veterans and current service members and will be a space for creativity, writing exercises, discussions on ways to write about trauma, advice on publishing, and more. This weekend will be an opportunity to express shared experiences and learn to write your story for a non-military audience.  Two full scholarships and a limited number of partial scholarships for this retreat are available, and interested parties should email Erin Elizabeth Smith no later than September 15, 2017.  Space is limited to 15 individuals, so reserve your place today.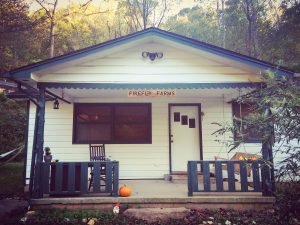 Then on October 28th, join us for Hollerween, a free event at Firefly Farms, featuring readings from Sarah A. Chavez and Caitlin Scarano, as well as surprise musical guests. Hollerween will be a artist-friendly event with free food and entertainment for all!
To find out more about our upcoming workshops, readings, and events, you can visit our website or sign up for our mailing list.