We're pleased to spotlight Rhea Carmon and her writing life. Thank you for helping us spread the word on how the KWG supports our writing community for writers at all stages of their writing journey.
1. How long have you been a member of the KWG?
I believe this is my 2nd year being a part of KWG

2. What kind of writing do you do?
I write poetry and motivational affirmations

3. What project are you working on now?
Through the Clouds is a book of poetry and stories from my life
4. What is your writing goal?
I would love to one day be a Poet Laureate
5. Awards, prizes, or writer feel-good moments?
Community Shares Tennessee Artist of Change – April 2017
Bonnaroo 2018 – 1st Poetry Collective to Perform
KSO Creativity Train (November 2017) and 4th of July Performance 2018
The 5th Woman 2014, 2015, 2016, 2017, 2018
Knoxville News Sentinel spotlight and mini-documentary – Rhea Carmon finds empowerment in poetry and A look at Rhea Carmon's life and the role poetry plays in it (September 15, 2016)
6. Who inspired you to write? I am inspired by so many people.
However, I think I started writing poems because of Langston Hughes, James Weldon Johnson and Nikki Giovanni.
How did this person inspire you?
They were inspirational because they wrote with power about being black. They put their lives into their poetry and I thought that was amazing. They told their stories using poetry and that is what I wanted to do.
7. Do you have any writing rituals, favorite snacks or times/places to write?
I write when I am inspired. So sometimes that means I am in my car, in my classroom, on my couch, at the grocery store. Whenever it hits, I take out my phone and start to speak the words that are coming through my brain.

8. What helps when you get stuck?
Writing Haikus

9. What are your favorite excuses for not writing?
My family

10. What's the best thing you've read lately?
The Hate U Give

11. What is your secret talent?
I don't think its that much of a secret, but I love to sing. I guess if we are talking about secrets, I love to cook vegan food!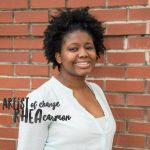 Award-winning wordsmith RheaSunshine is a force that weaves passion, purpose, and power into poetry. She is the creator and Executive Director of the 5th Woman Cohort, which explores the stories of women. Regardless of race, women share the same experiences, fears, joys and more and the 5th Woman allows them to examine these moments without social and political barriers.
For twenty years, RheaSunshine has traveled the nation, sharing her gift of the spoken word and facilitating self-expression, liberation, and healing. This art form has led her to touch lives at universities and educational institutions as well as civic engagements and festivals. She has opened for such artists as Nikki Giovanni, Macy Gray, and Saul Williams and the world constantly expands to make room for her gift. Her upcoming fourth book release titled Through the Clouds explores her battle with Multiple Sclerosis.