We're pleased to spotlight Michael Jordan and his writing life. Thank you for helping us spread the word on how the KWG supports our writing community for writers at all stages of their writing journey.
What kind of writing do you do?
I write historical nonfiction–primarily books (so far, at least) about the history of Savannah, Georgia, where I used to live. My projects include a popular coffee table book about Savannah's historic squares, a book about the city during the Civil War, and a guide book to a 200-year-old house museum. I've also written numerous magazine articles and contributed a chapter to an archaeological report.

What is your current writing project? Soon I'll be co-authoring a new guide book to Blount Mansion National Historic Landmark here in Knoxville. I'm also slowly working on a long-term project about US Navy divers from their earliest days in the American Civil War to the present. At the moment, I'm writing a magazine article (publisher TBD) about the surprising history of my 90-year-old house in Knoxville's Island Home neighborhood.

What is your writing goal?
I want to write a historical nonfiction book that will be appealing to audiences beyond the cities where I've lived and successfully pitch it to a national publisher.

What is your day job? 
I am the Director of Marketing and Development at Blount Mansion National Historic Landmark.
When did you join KWG and how do you like to participate? 
I am a brand-new member of KWG, having just joined when I spoke to the group virtually on Thursday, Feb. 4th. I am looking forward to hearing other writers describe their writing process, meeting like-minded people, and getting input from others to make my writing better.
 Awards, prizes, or writer feel-good moments?
My biggest recent "writer feel-good moment" was when a paper I was writing about a historical shipwreck, the CSS Georgia in Savannah, was selected for inclusion in the official government archaeological report on the raising of the wreck. I had painstakingly researched hundreds of old documents to solve a mystery about who first tried to salvage the wreck in the 1860s-70s, and it was really gratifying to know that my work mattered. It was also quite a story!
 Who or what inspired you to write?
I've had an itch to write for as long as I can remember. I switched my major from music to history in college largely because I loved writing, wrote magazine articles on the side when I was working full-time as a local television news anchor, and dreamed of writing for a living. It was my friend and collaborator Mick McCay in Savannah who finally got me to take the plunge and write my first book, when he dreamed up the idea of our coffee table book on Savannah's historic squares.
What KWG programs or workshops stand out for you?
I've only attended one in the past, when Jack Neely spoke about Knoxville on the silver screen at a KWG event in January 2019.
 Has a KWG writing group helped you?
I haven't yet had the chance to join a KWG writing group but I'm looking forward to learning about new opportunities.
What helps when you get stuck?
I always remind myself Scott Dickers, founder of the satirical newspaper The Onion, told a group at UT in August 2018: "Writer's block is bulls&*t. It's all in your head." I also remind myself of the discipline of Flannery O'Conner, master of the short story, who forced herself to write every morning, even when she was suffering terribly from the lupus that eventually claimed her life. Flannery believed that most of the time, the product that resulted from that morning work was worthless–but she always persevered, no matter what.
 What's the best thing you've read lately? 
I really enjoyed Margaret Lazarus Dean's Leaving Orbit, about the history of the American space program and the end of the space shuttle era. I most enjoyed the way Dean explored the way other writers have written about the space program in the past, particularly during the glory days of the Mercury and Apollo programs. I started reading the book during the weeks leading up to the 50th anniversary of the first moon landing, and also right after my family visited the space center at Cape Canaveral, so it was good timing.
What is your secret talent? 
I am a pretty good singer and used to be a good pianist when I was younger.
BIO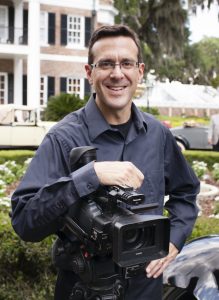 I grew up in western North Carolina in towns between Asheville and Charlotte, majored in history at Carson-Newman College in 1994, and wound up working as a local television news anchor in Savannah, Georgia, where I fell in love with maritime and architectural history and got hooked on telling stories. After leaving the anchor desk, I worked for several years as the public relations director for a group of local history museums, earned a masters degree in history, started my own video production company, and worked as a freelance military correspondent covering local troops in Afghanistan, Iraq, and at sea. Eventually I produced more than thirty original films on Savannah history, including orientation films for local museums and videos of archaeological projects on land and at sea. I moved to Knoxville in mid-2014 when my wife accepted a position at the Howard Baker Center at UT. You can check out my films, books, and magazine articles at www.michaelljordan.com. I finally put down professional roots in Knoxville when I started working at Blount Mansion National Historic Landmark in August 2018. www.blountmansion.org