We're pleased to spotlight Bob Beasley and his writing life. Thank you for helping us spread the word on how the KWG supports our writing community for writers at all stages of their writing journey. 
How long have you been a member of the KWG? 
Since 2009

What is your day job? 
I'm a retired Episcopal priest. I still do some Sunday work ,and I'm very active in the Maryville Rotary Club.

Are you part of a KWG writing group? 
Member of the Advanced Fiction Group

What kind of writing do you do? 
Fiction and some newsletter work.

What project are you working on now? 
A novel and a short story every now and then.

What is your writing goal? 
To enjoy writing. I don't have much earnestness about publication anymore.

Awards, prizes, or writer feel-good moments? 
I used to attend annually the Santa Barbara Writers Conference. I won the fiction prize one year, but the best was winning the little contest for the "worst first line."

Who inspired you to write? 
My mentor is a novelist and screenwriter named S.L. (Sid) Stebel who died in his 90s this year. Sid didn't start me writing but he helped me understand why I enjoyed it. He was really big on the role of the subconscious in writing.

What KWG programs or workshops stand out for you? 
There are too many to pick one. Since I lead the hospitality team, I like most the programs where leaders engage the writers and readers who attend and enable us to support one another in the craft of writing. I like it when KWG is a place where writers encourage one another. Then we can go home and suffer from envy. No, stop.

If you are in a KWG writing group, how has it helped? 
They help me clean out the crap and encourage me to elevate the craft of writing.

Do you have any writing rituals, favorite snacks or times/places to write? 
Unfortunately, I usually write late in the evening and, now that I'm older, it conflicts with bedtime.

What helps when you get stuck? 
I'm not stuck, just lazy. When I write, I love doing it. It feeds on itself.

What are your favorite excuses for not writing? 
Watching TV, especially sports.

What's the best thing you've read lately?
Right now I'm reading a wonderful biography of Ida B. Wells. I cycle and listen to a lot of books while on my bike. The best book I've listened to this year is "How to Be an Antiracist" by Ibram X. Kendi. It's personal and insightful.

What is your secret talent? 
It's not much of a secret but I'm really good at cleaning, which is why I operated the Mr. Meticulous Premium Cleaning Service in my retirement until this year. Premium because I charged a lot.
Bio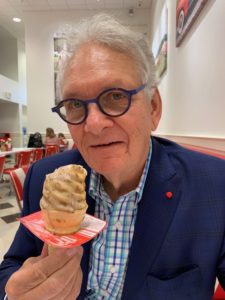 Robert L. Beasley, retired from work in the church, lives in a loft in Maryville, Tennessee, with Martha Lee, his wife, and Natasha, their Russian Blue cat. They have blended family of four children and eight grandchildren. Published stories include "The Paved Road" in the StoryTeller, "The Rector Painted His Nails" in A Tapestry of Voices: An East Tennessee Anthology, "Spokane and Cletis" in the Writer's Colony, "Ascension Day," in bosque: the magazine, November 2012, and "Take the Car," in bosque: the magazine, November 2013. He currently coordinates the hospitality for KWG monthly meetings and is a member of the Advanced Fiction Writing Group.