We're pleased to spotlight KB Ballentine and her writing life. Thank you for helping us spread the word on how the KWG supports our writing community for writers at all stages of their writing journey. KB was the runner-up in Poetry category of the KWG 2019 Writing Contest.
How long have you been a member of the KWG? 
Jim Johnston introduced me to KWG in 2007 when Celtic Cat published my first collection of poetry, and I became a member not too long after that. I have periodically run workshops for KWG, and I love the energy and vibe of its members.


What is your day job?
I teach high school English and theatre, and I adjunct for a local college.


What project are you working on now? 
My sixth collection The Light Tears Loose came out late summer this year [2019], so I am going to readings and working on marketing. I am currently working with a publishing company for my seventh collection to come out next year, and, of course, I am also writing, writing, writing!


What is your writing goal?
My resolution this year has been to write at least one poem per week, and I have managed to do that. In the summer I was able to write a bit more, but, with a full-time schedule and two hours of driving each work day, I am thrilled to have been able to keep to this goal.


A recent writer feel-good moment?
At my school's book fair, my book was included in the stock, and it was great to have my creative writing students get a book and ask for my autograph!


Who inspired you to write? How did this person inspire you? 
I 

remember always being able to read and always writing something, so I don't know if there was someone or if it's just something I have to do.

I think the current, local poetry community supports each other and tries to make sure there are opportunities for everyone, including people just coming into the "poetry scene." But we have a lot of current writers who inspire me to keep writing: Bill Brown and his fabulous workshops, Marilyn Kallet and her indomitable spirit and ability to embody her work, Jeff Hardin and his constant support of fellow writers, Maggi Britton Vaughn and her continual encouragement and push for writing: each of these people (and so many others) work and continue to write no matter what's going on in their lives, and that is something I want to live up to.

Do you have any writing rituals, favorite snacks or times/places to write?
I write best in the morning with a cup of tea, and I have to hand write my poems before I can type them. I believe there's something kinesthetically working for me from brain and heart to hand that doesn't really flow that well if I start with typing.


What helps when you get stuck?
Going to a word list I have saved helps if I get stuck. I find a word and then try to work it into what's happening in the poem; it's a really big help.


What are your favorite excuses for not writing?
Exhaustion. No, really, I don't usually write at home because I feel guilty about not doing laundry or vacuuming and other chores when it looks like I'm just sitting around. I don't work well in busy places, though, either, and have recently discovered quiet places close to home that allow me to work guilt-free and alone.


What's the best thing you've read lately?
I have read many great books lately, probably the most obvious thing about them is that most of them have been published by our very own Iris Press. Many local and not-so-local authors have been featured whose work I have particularly admired, most recently Linda Parsons, Susan O'Dell Underwood, and Sandy Coomer
.
What is your secret talent?
My secret talent is "stick-to-it-iveness." And, apparently, using strange combinations of words.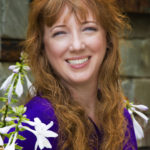 KB Ballentine teaches theatre and creative writing to high school students and composition and literature for a local college. Ballentine's sixth collection, The Light Tears Loose, was published in 2019 by Blue Light Press. Ballentine received her MFA in Poetry from Lesley University, Cambridge, MA.