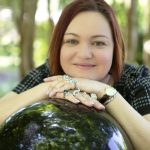 At 7:00pm on November 2, veteran novelist, Julia Watts, will share her methods for creating story beginnings that invite the reader to keep reading. She will also discuss how she handles both negative and positive feedback during her writing process.
Ms. Watts is the author of over a dozen novels, including the Lambda Literary Award-winning Finding H.F.., the Lambda Literary and Golden Crown Literary Society Award finalist, The Kind of Girl I Am, and the Lambda Literary Award finalist and Golden Crown Literary Award-winning Secret City. She holds a B.A. in English from The University of Tennessee, an M.A. in English from the University of Louisville, and an MFA in Writing from Spalding University. She lives in Knoxville and teaches at South College and in Murray State University's low-residency MFA in Writing program. Her latest two projects have been collaborative, the novel Rufus + Syd, co-written with Robin Lippincott, & Unbroken Circle: Stories of Cultural Diversity in the South.
Join Julia and the Knoxville Writers' Guild for our monthly meeting on Thursday, November 2, at 7 p.m. at Central United Methodist Church (201 3rd Ave.).
The Knoxville Writers' Guild requests a $2 donation at the door. This helps defray our rent for meeting space and entitles you to drawings for door prizes (when we have them).