We're pleased to spotlight David Neil Drews and his writing life. Thank you for helping us spread the word on how the KWG supports our writing community for writers at all stages of their writing journey.
How long have you been a member of the KWG?
Since when I was hired as the Guild's part-time publicist.


What is your day job?
I have no day job. Every weekday, I swim, write, and volunteer at the YMCA as a swim coach for two Downs Syndrome members.


Are you part of a KWG writing group?
No, but at some point I'd like to be.


What kind of writing do you do?
My first novel, Wrap Your Body in Time, is probably upmarket fiction. I'm not sure because I never found an agent. The novel I am currently working on is a piece of historical fiction. And I have a nonfiction idea for my next book.


What project are you working on now?
Iron Tigers, a story inspired by the 1899 Sewanee, University of the South, football team. Even if you dislike football, look this team up on Wikipedia-amazing collective human feat.


What is your writing goal?


To complete one more revision of

Iron Tigers

, to find a well-connected agent to sell the manuscript to a giant publishing house who sells at least 500,000 copies of the book. Dream big!


Awards, prizes, or writer feel-good moments?
A musician/actor friend produced and starred in an outdoor play/concert at the Music Box Theatre in New Orleans. He asked me to write a poetic prelude for the performance. I wrote it (approx. 150 words), he spoke it, and, after the play was over, an audience member asked my friend for a copy of the prelude so he could tattoo it on his leg. I might be published–don't know for sure.


Who inspired you to write?
John Knowles and Dave Anderson. When I was around 12, I read A Separate Piece and it engaged me from start to finish and I wasn't yet an avid reader. The book's themes and subject matter find their way into my fiction, 45 years later. Dave Anderson is a sports journalist who wrote A Countdown to the Superbowl, about the N.Y. Jets' 1968-69 championship season. I didn't know the term at the time I read the book–I was around 15–but it was utterly cinematic. He inspired me to write as if I am writing a movie and to write about sports.


Do you have any writing rituals?
Each morning I leave the YMCA and go to my office to write–aka Gourmet's Market.


What's the best thing you've read lately?
All About the Arctic. This young adult nonfiction book was part of a 1940s/50s series published by Random House. This is the fourth All About book I've read (must reads: All About the Weather, the Atom, the Stars). My goal is to collect and read all fifty and then pass my All About library to my nephew, Harrison. He's eight, and I hope to give him the set for his tenth birthday.


What is your secret talent?
Keeping secrets.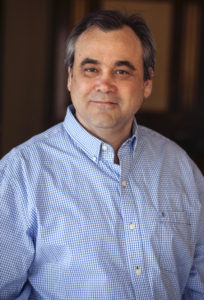 David Neil Drews is a native of Queens, New York who has lived in Knoxville at one time or another during all five decades of his life. He is a former English teacher at Knox County's Vine Middle School and West High School. Previously, he was assistant vice-president of commercial real estate lending at a French bank in New York. He has a finance and English literature degree from the University of Tennessee. David is an aspiring fiction and nonfiction writer. He self-published his first novel, Wrap Your Body in Time, and is close to finishing the manuscript for Iron Tigers, a novel inspired by the 1899 Sewanee football team.