Spelling Bee Drama
Cindy Moffett, News Shopper
"This is my first spelling bee, and I've never felt so alive," said a contestant during the practice round of the Knoxville Writers' Guild's third annual adult spelling bee, held September 6 at the Scruffy City Hall.
The evening included plenty of door prizes, rapid-fire spelling prowess, and unexpected drama. One contestant left the stage after spelling "foretell," only to be called back a round later when the judges found that the spelling was alternate and acceptable. "Resurrected!" said contest chair Michael Smith.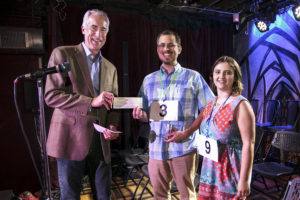 Another contestant, James Cantu, was last year's first to misspell. This year he turned the tables and won after ten rounds by correctly spelling the word "locofoco," which means "a match developed during the 19th century and capable of being ignited by friction on any hard dry rough surface." Second place went to Award Summer, who missed the word "Nibelung" (a member of a race of dwarfs in Germanic legend or any of the followers of Siegfried) in the tenth round.
The spelling bee is the primary fundraiser for the Knoxville Writers' Guild, which builds better writers through affordable monthly programs and workshops. Pilot Flying J; Luedeka Neely Group; National Mailroom Service, Inc.; and Test Prep Experts sponsored the event. Door prizes were provided by Apple Computer, Flying Anvil Theater, French Market, Holy Land Market & Deli, Knoxville Walking Tours, Magpies Bakery, Plaid Apron, Southland Books, and Guild members.