We are happy to announce our inaugural, monthly member spotlight — a new KWG feature and member benefit.
This month's spotlight –
Linda Parsons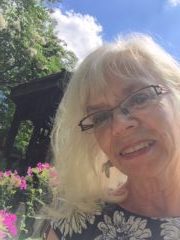 Poet, essayist, editor, and playwright—KWG member since 1994.
Recently retired from UTK after 28 years, Linda will continue to freelance edit, write poetry, drama, and essays.
In 2016 Texas Review Press published Linda's fourth poetry collection, This Shaky Earth. Just two years later, she has a new poetry manuscript. This collection reflects Linda's discovery of insight and peace through meditation and Buddhism. Major changes in her life led her to these practices and we all look forward to experiencing her recent journey as expressed through her poems.
A member of the Flying Anvil Theatre board of directors since 2014, Linda stays active in many aspects of this Knoxville theatre production company. The group's social activism wing, The Hammer Ensemble, is producing Lockdown. Co-written by our Linda Parsons, this play tackles school safety and gun control issues. Lockdown will run at the Flying Anvil Theatre, 1300 Rocky Hill Road, from September 6th through September 9th. Please go to the theatre's website for more details.